Hello Firstie Families and Friends!
I can't believe it has been 2 months since I've posted.  Most of our followers keep up with us on Twitter so I've ended up there much more than here!  But here I am!  Happy almost April!  I can't believe there are less than 50 days left in the school year.  February was a busy month.  Firsties participated in an author study of Mo Willems – creator of The Pigeon, Piggie and Gerald, Knuffle Bunny and so much more!  Mo is definitely a favorite author of all firsties.  Your fabulous first graders drew illustrations like Mo did in Knuffle Bunny – using photographs as settings and drawing in cartoon characters.  They created their own Pigeon story, thinking about something they would not want to let the Pigeon.  There were so many creative titles.  Firsties also used the materials from our Maker Space Cart to create vehicles for the Pigeon.  …and that is just the tip of the iceberg!  One of their favorite Piggie and Gerald books is There is a Bird on Your Head.  Firsties used the green screen to create a picture of an animal somewhere on them.
March brought the arrival of new flexible seating – beanbags, stability balls, and wobble cushions.  Thank you to all who donated to Donors Choose to make it happen.  The firsties LOVE all the new seating options.
We celebrated Dr. Seuss's birthday with a Seuss Spirit Week.  Firsties wore green for Green Eggs and Ham, fun socks for Fox in Socks, shirts with words for I Can Read With My Eyes Shut, and dressed wacky for Wacky Wednesday.  One of my favorite parts of this week is when firsties realize that they CAN read so many of Dr. Seuss books.   Firsties heard There's a Wocket in my Pocket, designed their own Wocket-like characters and made videos using the green screen.
St. Patrick's Day brought some fun STEAM activities in Room 22.  Firsties graphed Lucky Charmes, designed leprechaun traps, and combined their trap ideas to build a class trap. They may have only caught his pants and his shoes, but they sure had fun!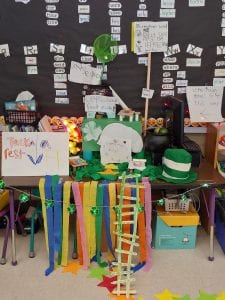 The whole school worked together to fill up the purple heart container and earned a "Comfy Cozy Reading Day."  With all the blankets that came to school, we had to make a blanket fort…and read underneath it with flashlights.  So much fun!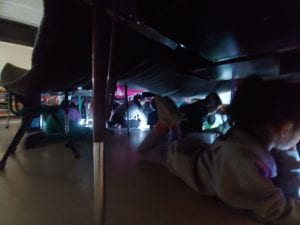 March also brought us a new Writer's Workshop unit on writing opinion pieces.  First graders have learned how to state and defend their opinions with details and how to pose a counter-opinion when their opinion differs from someone else. They learned that many times, when we have different opinions, we can just "agree to disagree."
As we close the door on March 2019, I would like to say thank you to all of you who came to Room 22 to be Mystery Readers.  The firsties were super excited every day to get clues and try to figure out who was coming to read to them.  We had LGN staff members, NPS staff members, moms, dads, aunts, sisters, brothers, grandmothers, friends (and even my parents!) come to read to us!  THANK YOU!  THANK YOU!  THANK YOU!